Who is Martha White?
There are two ways to Martha's heart: Country music and down-home Southern cooking. See how both have influenced us over the years.
Explore our story over the years
Martha Fact
Who is Martha White?
In 1899, Richard Lindsey Sr. founded Nashville's Royal Flour Mill with his wife, Katherine. They were known in the area for producing some of the highest-quality flour, perfect for Southern cooking. When it came time to name his finest flour, Richard thought of his finest accomplishment, his daughter, Martha White Lindsey.
Martha Fact
Goodness Gracious, It's Good!
In 1944, businessman Cohen E. Williams acquired Nashville's Royal Flour Mill, and the first thing he did was change the mill's name to match its best-selling flour: Martha White. Then, he coined the slogan, "Goodness Gracious, It's Good!", which helped make Martha White a household name for many years to come.
Martha & Music
It's Cornbread Time!
Martha White aired its first advertising in the 1940s with sponsorship of the 5:45 a.m. radio show "Martha White Biscuit and Cornbread Time" on Nashville's WSM radio. The show featured a band called Milton Estes, the Old Flour Peddlers and His Musical Millers.
Martha & Music
Live at the Grand Ole Opry
With an advertising budget of only $25 per week, Martha White broadened its advertising by sponsoring Nashville's famous Grand Ole Opry, the country's longest running live radio broadcast. Today, the historic Martha White logo backdrop, once used on the Opry stage, is in the permanent collection at the Country Music Hall of Fame in Nashville, Tennessee.
Martha Fact
Martha White on the "Rize®"
The 1950s were a big decade for Martha White. It changed at-home baking forever by introducing a new self-rising secret ingredient called Hot Rize®, which made baking quicker.
Martha & Music
The "World's Great Flour Peddlers"
In 1953, Lester Flatt and Earl Scruggs were hired to play in the South with the Martha White Bluegrass Express, a music show that toured local festivals while promoting Martha White flour and corn meal. They became known as the "World's Greatest Flour Peddlers" through local concerts, radio show performances, and their television program, sponsored by Martha White.
Martha & Music
Play That Martha White Song!
Lester Flatt and Earl Scruggs, touring with the Martha White Bluegrass Express, graced stages nationwide, including the Grand Ole Opry and Carnegie Hall. Earl's pioneering banjo technique inspired countless players. They were often asked to "play that Martha song," a jingle for all-purpose flour with Hot Rize®, which remains a classic bluegrass song.
Martha Fact
"The World's Best Biscuits"
No meal is complete in the South without a plate of piping hot homemade biscuits! Martha White followed the introduction of Hot Rize® with its first real convenience mix, Bix Mix, in the 1960s. This new product invited homemakers to make "the world's best biscuits" by just adding water.
Martha & Music
"America's Favorite Pea Picker"
In 1970, country music star Tennessee Ernie Ford became the Martha White spokesperson. He made guest appearances on the Grand Ole Opry and performed private concerts for Martha White customers. Ford coined the phrase, "Bless your pea-pickin' heart!" as a TV host, earning him the nickname "America's Favorite Pea Picker."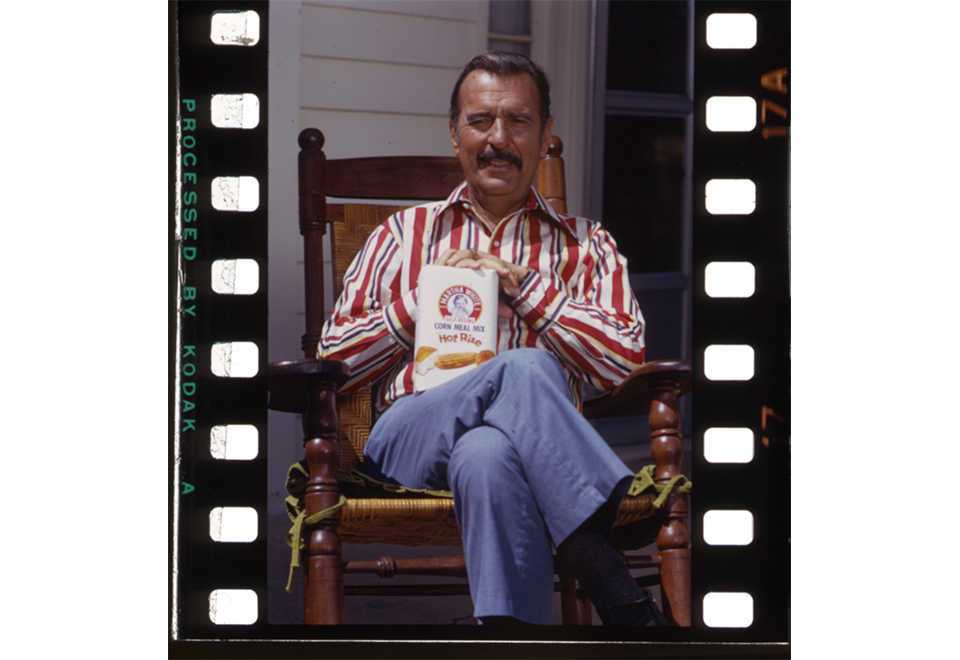 Martha Fact
Mmm, Mmm, Muffins
After biscuits, Martha White was ready to introduce a new line of easy-to-bake favorites. In the 1970s, Martha White introduced fruit muffins to homes across the South, with a whole range of delicious flavors, including blueberry, strawberry, and lemon poppy seed.
Martha & Music
A Standing Ovation
One of Ford's last performances was in 1988 in honor of the Martha White brand's 40th anniversary as a Grand Ole Opry sponsor. When Ford was introduced to the Grand Ole Opry audience by country legend and friend Roy Acuff, the crowd rose to its feet and gave a rousing standing ovation.
Martha Fact
Introducing Linda Carman
During the '90s, Director of the Martha White Test Kitchen, Linda Carman, traveled the South to host baking demos and cooking schools. As a native of Alabama, she credits her mother's Southern cooking as the inspiration for her own recipe successes including several published books: Martha White Kitchens, The Southern Baking Book, and The Southern Sampler.
Martha Fact
The First Annual Cornbread Cook Off
Since 1996, the best cornbread recipes have been found in the foothills of southeastern Tennessee at the Annual National Cornbread Cook-Off Finals. For one weekend, the best of the best enters their main-dish cornbread recipe that uses at least one package of Martha White Cornbread Mix and that is cooked in Lodge® Cast Iron cookware.
Martha Fact
The First Muffin Mix Challenge
Each year since 2008, bakers have set their timers and started baking for the Martha White Muffin Mix Challenge - a chance to show off their creativity using Martha White Muffin Mixes as the inspiration for their recipe entries. And while a new set of winners takes home the prizes each year, their winning recipes live on for others to enjoy!
Martha & Music
The Grammy Hall of Fame
Martha White has always been proud to be a part of the history of bluegrass. In 1957, while still traveling the country as part of the Martha White Bluegrass Express, Lester Flatt and Earl Scruggs recorded Foggy Mountain Jamboree. In 2012, The Recording Academy selected the Columbia Records' 1957 album for induction into the Grammy Hall of Fame.
Martha Fact
Moments in Minutes
After 100 years of innovation, Martha White will continue to stay true to its roots. We'll keep bringing you easy-to-make ideas for good ole Southern-inspired classics to help make moments special during the holidays, before a big game, or whenever you need a quick pinch of inspiration.